There's a joke amongst the Kubb playing fraternity that says it's time to stop playing when the King starts to float. This being England meant we could never rely sufficiently on the weather and this being the 12th of May at the Old Station Inn, Hallatrow meant that it was the Kubb South West Fun Day that would have to put up with whatever the skies brought us. It did rain, yes, but the good humour of all players and their keen sense of competition meant that, while we did retreat for cover a few times, at no stage did we ever feel the urge to stop.
After months of hassling and bullying (resulting in me acquiring the nickname 'Mister Kubb' in some areas), and latterly pleading & begging, 14 teams of all abilities took part in the competition. This included a group celebrating a birthday and a team called 'The Useless Tossers' - whether this is a name chosen by themselves or their opponents, I cannot say. There were also many other hangers on and spectators in attendance to support, taunt & drink. Kicking off with a demonstration at 2:00, each team had to play 3 others, with the most successful taking part in a tense, soggy final. In between matches, players found themselves trying another garden game, the excellent Smite, demonstrated by the makers themselves, all the way up from Cornwall for the day. Also on hand were Viking Kubb, whose discrete whispers of "Psst, wanna buy some Kubb ?" to new addicts means that Temple Cloud must surely now have the highest number of sets per capita in the UK - these converts will undoubtedly help spread the word locally and it can only be a matter of time before the Parish Council twin-towns us with Gotland.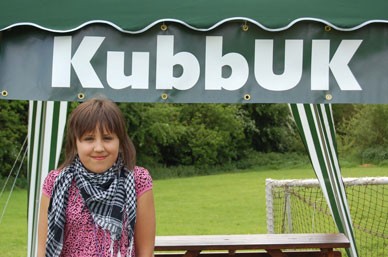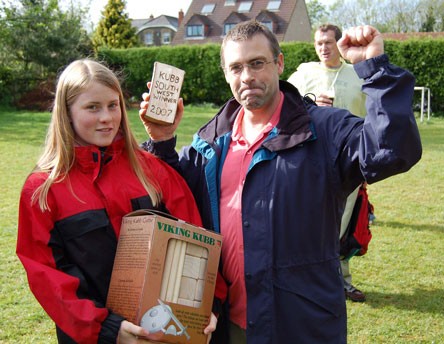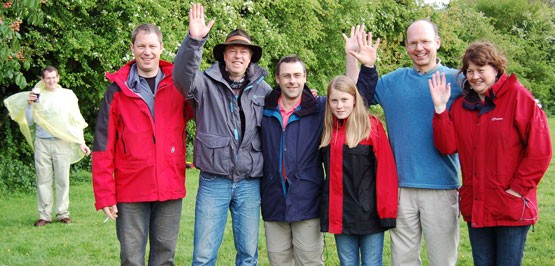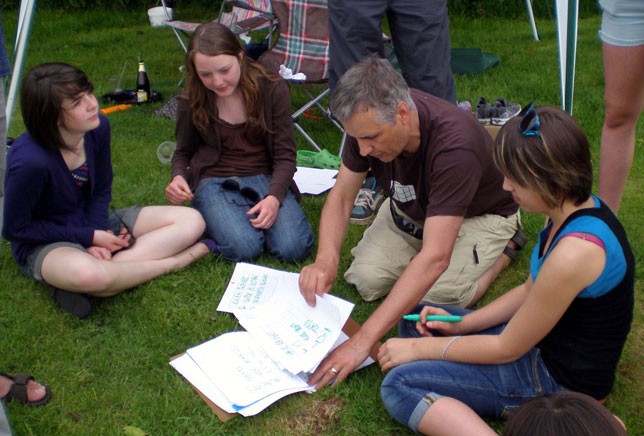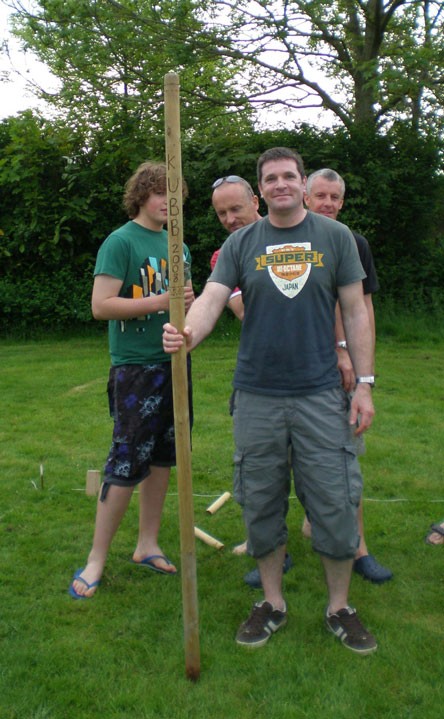 Approximately 25 tournament matches took place (one lasting well over an hour) on several pistes, with many other 'friendly' games springing up in quieter moments. After 2 hours, the final took place between local boys Russell & Craig of 'Moore Gentle' and 'Team Loakes', a team based around a family with 3 generations of Kubb-playing heritage. The former seemed to have lost their Mojo by this stage (I'm guessing they dropped it on one of their trips to the bar) and appeared unable to even see the Kubbs, let alone actually hit one. Their chances were helped by neither the supportive presence of their wives (also competing as 'Sweaty Betty') nor the proud cries of "That's my Daddy" from their children. Some solid play from the Loakes kept the pressure up, everything seeming to go their way, with one casually thrown baton even glancing the King before toppling a poorly placed Kubb. At this stage, drink fuelled spectators were hoping for ungentlemanly tactics from 'Moore Gentle', even suggesting a 'misthrown' baton to the opposition's groin – they were disappointed. In the end 'Team Loakes' won it, receiving a Kubb set from TST Toys and a shoddy home-made wooden trophy that is rapidly becoming a trademark of the KubbUK organisation. 'Moore Gentle' also received a set, this time from Viking Kubb, and an equally poor trophy. Said Russell "I'll keep it above my fireplace – I just hope it doesn't get mistaken for kindling'. The afternoon ended at around 5:30 with a raffle. Firstly another Kubb set, again donated by TST Toys, a Smite set, a Riverford organic vegetable box and a Blacks voucher. My thanks to those companies for their generosity.
I had to return to the venue the next day to look for a lost Kubb piece and it was quite a sad moment - seeing an empty field where just the previous day 60 of us had enjoyed such a good time. Trampled down grass and marks left by the natty green KubbUK gazebo being the only remnants of what had been a great afternoon. So much effort was made by so many people that it seems a tragedy for it to be over so quickly – I am completely indebted to everyone for coming, whether to play, help or spectate. We made some great friends that day and I hope we can all do it again next year.
Did I ever find my missing Kubb piece ? Sadly not, but hidden in the stinging nettles, precariously close to evidence of the toilet habits of local dogs & foxes, I did find the 'Moore Gentle' Mojo, twinkling softly in the morning light.