If you'd asked me on the morning of the annual Kubb tournament what I thought the majority of emails and discussions I'd be having a few days later would be about, never in a million years would I have answered anything about checking dates for the World Cup 2010. And yet that's what happenned, me carefully scouring the FIFA website to ensure that the next time our finest Kubb fanatics get together, we don't clash with a potential England football match.
Let me put this into context : word on the street had it that Saturday was going to be a washout and I was receiving notification of players declining my kind offer to spend an afternoon gadding about in a sodden pub garden. Therefore I duly arrived at the venue fully expecting it to be the last tournament I'd be organising. 5 hours later and I had been very much corrected by the opinions of some 70 players, all saying that if I was prepared to organise it, the least they could do was come and play. To mangle a comparison with the First World War soldiers who played football during a Christmas Day ceasefire, these Kubb players wouldn't have waited until Christmas Day, they'd have been throwing batons even during the height of battle !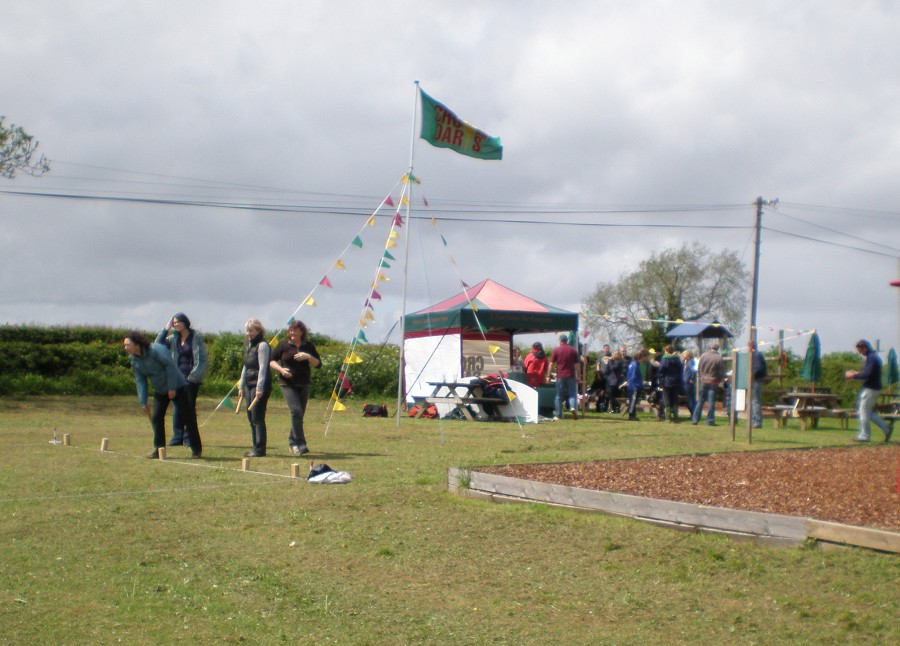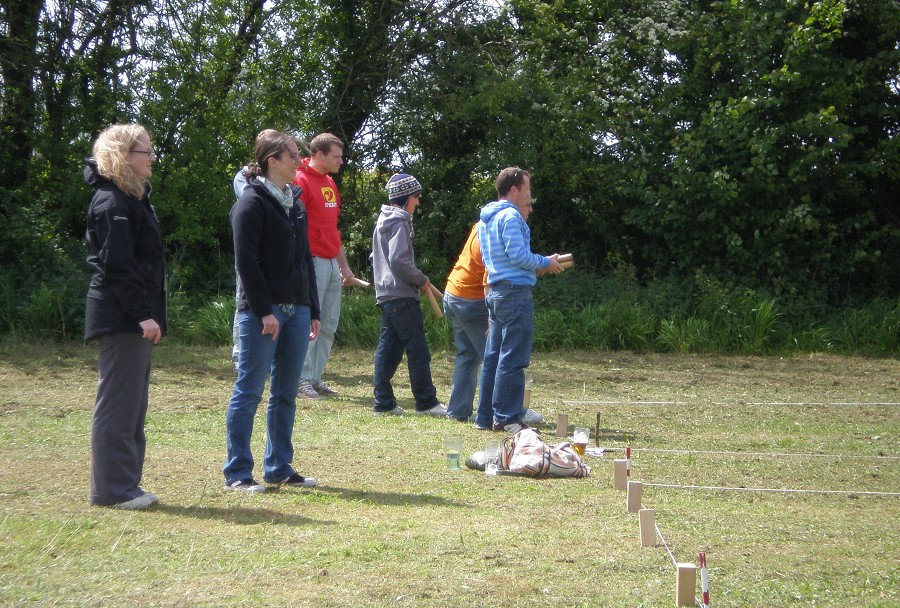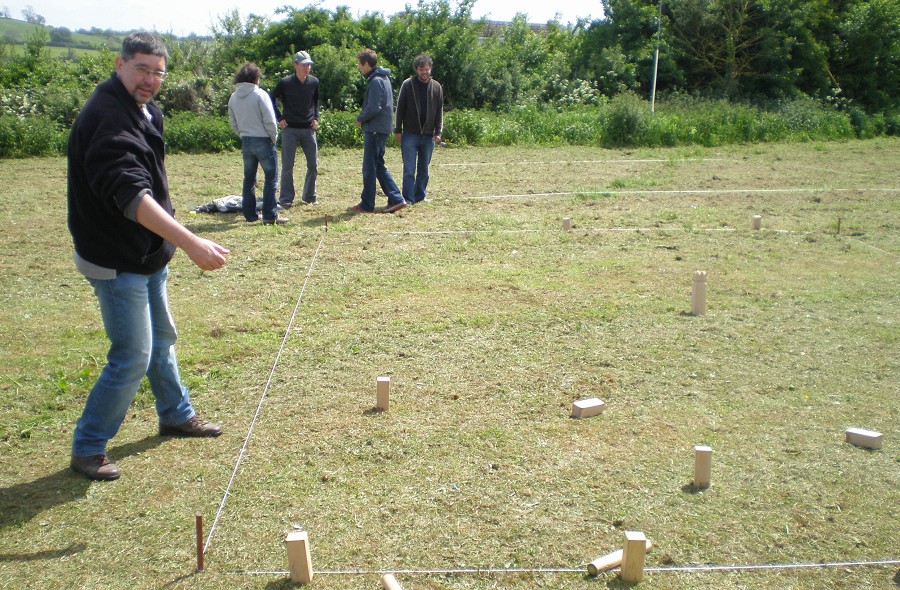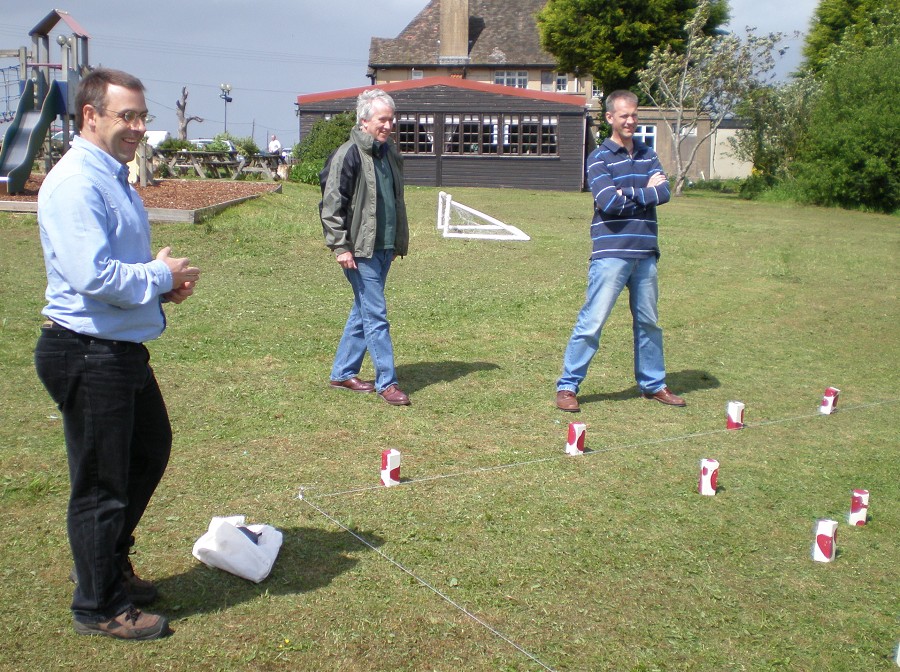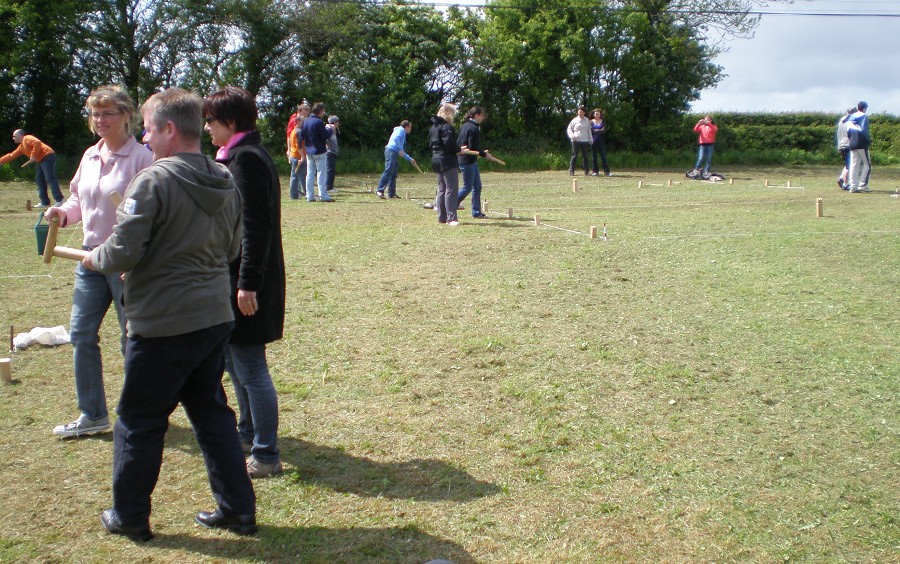 Fortunately on the day, the weather was ok. We had periods when rain stopped play for a few minutes but we also had warm spells and great sunshine. Unfortunately a slight puff of wind all but destroyed the flimsy KubbUK gazebo, leading me to think that next year I must invest in something more robust. Like a campervan. But we had 20 teams, undaunted by the weather and desperately competitive, blissfully unaware of just how shoddy a set of trophies I'd managed to conjure up. Impressively, and perhaps I shouldn't be surprised, there was no need for a demonstration game after my welcome speech and fatuous jokes at the expense of old friends. People just wanted to get on and play on a set of pitches that had been so haphazardly measured out that one of them was closer to a square than a rectangle.
There were some great matches, often between members of the same family. I know of at least 3 children who have had their pocket money stopped and a few husbands who have been advised to avail themselves of the spare bed. The standard was such that a couple of games went on for over an hour, leaving all participants drained but still fit enough to find their way to the bar of the New Inn. Perhaps this is now the appropriate time to mention our new venue. When I was first organising a tournament in 2007, I had checked out the New Inn and their garden. But I dismissed it as far too large and I was unwilling to choose a location in which we did anything less than dominate the space available. But here we are, 2 years later, and we'd filled a great proportion of it, much to the chagrin of some of the locals' children.
Games continued apace until eventually we whittled the competition down to 3 teams and had to settle on a quick means of deciding the best two for a final. This was done by a 'toss-off' in which each team had 10 batons to knock over as many Kubbs as possible. The first team up was Andy Loakes and his winning team from 2007. They scored 2. Next were 'The Londoners', who managed 3. Finally Richard Collis [winner from 2008] and son Duncan managed 2. Time for 'sudden death' with Andy & Richard's teams throwing alternately until one could gain a lead, that team being Andy and friends.
The final was, to put this kindly, brief. I can't be positive but I don't think Andy's team hit a single Kubb. They probably wanted to chuck a couple into the hedge afterwards but would have likely missed that also. Team 'Londoners' Joe and Rich, won easily and were possibly bemused by the dismally engraved KubbUK rolling pin but definitely grateful to be recipients of a set of Crown Dart Kubb.
Mention of Crown Darts leads neatly on to people I must thank. Firstly Jesse Brough, whose enthusiasm and assistance before, during and after the event are of immense value to me. The fact that he comes all the way down from Staffordshire speaks volumes. And because so many players already have Kubb sets, he hardly sells any at all. Secondly thanks to my wife Jane, who took on the role of scorer and chief administrator. I didn't buy her any flowers or anything but I did let her keep a couple of the marker-pens she had been using as a thank you. Her support meant I could get out around the garden and insult/banter with far more people than in previous years. Thirdly Graham and Sonja of the New Inn, for letting us trample their garden and muddy their bar - they know we are keen to return. But most importantly I must thank everybody who came to play or watch - your continued support is much appreciated and I hope you will all be honest enough to tell me when you feel that we should call it a day. And then, but only then, can I stop worrying about the damned weather forecast.